Social media must have initially started to influence people in the right way. It is on social media that we come across inspirational stories of common people who aren't famous enough for the mainstream media to give them screen space. The richest, as well as the most middle-class person, takes to social media to express emotions these days, isn't it? While for many, when social media is becoming a pathway to attract the most positive change in their lives, social media too has fallen prey to some evil like everything else that man has discovered.
And when we talk about the latest form of evil that haunts social media, the answer has to be 'trolls'. Every single social media user is beware of this evil. For those who don't know, trolling is an activity on social media where a user begins quarrels or upsets other users or a community of users with his or her off-topic messages. According to the internet slang, to troll is to humiliate another person's views or community by posting something that falls within the unconfined borders of inflammatory words. Such an act is considered to be extraneous. And it's the starry world of celebrities who usually become unapologetic victims of trolls on social media. There cannot be a single celebrity on this planet earth who has escaped from the qualms of trolls. And recently, Indian television actress, Mahhi Vij too saw herself becoming a victim of such a troll. Let's read about it.
What Was The Troll About?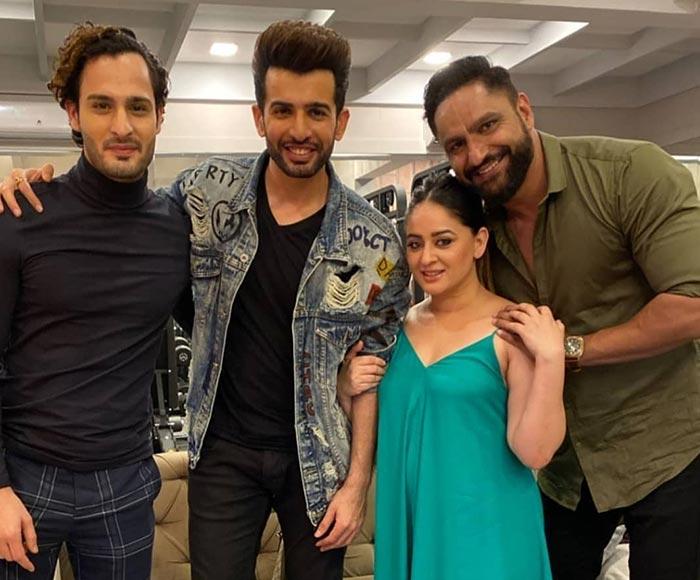 Those who follow Indian television reality shows closely know that Big Boss is one of the most controversial reality shows in India. Hosted by Bollywood's superstar Salman Khan, this year it's airing its 13th season. Every weekend the reality show has something called the Weekend ka Vaar. During this, the show's host interacts with the contestants inside the house and invites guests to the show and asks their opinions on what's brewing inside the Big Boss house. So, the last weekend was nothing different. Mahhi Vij, along with Jay Bhanushali (her husband) and two other celebrities Parag Tyagi and Umar Riaz was invited to form a panel for the Weekend ka Vaar episode. They spoke representing one of the many contestants of the show. For this event, Mahhi donned a beautiful blue oversized maxi dress.
After the event, Mahhi posted a picture of her with the other celebs on her Instagram stories. And this story post made her a victim of trolling. An anonymous troller replied to this story by saying, "Sharam kar moti" which translates to "be ashamed of your fatness".
Mahhi Vij's Savage Response To The Troll
It was natural for Mahhi to look different since she had gained weight during pregnancy. She had recently given birth to a beautiful daughter at Breach Candy Hospital, Mumbai. While many celebs choose to stay mum and not attract more media attention by responding to trolls, there are many actresses like Priyanka Chopra, Swara Bhaskar, Tapsee Pannu who don't let the trollers get away with their mean comments. And, Mahhi Vij too took the latter route.
She gave her troller a piece of her mind by sharing the screenshot of the comment of the troller and posting it on her story. On her Instagram story, she wrote asking the troller if the troller's mother was thin after delivering an idiot like the troller. She further went on to write in her stories that, this person was following her Instagram account as well as abusing her image. She also said that this particular troller's account had no followers or posts, therefore it must be a fake account. Mahhi also said that we all represent our upbringing even on social media, therefore, one must think twice before commenting such mean things that can hurt another person. Mahhi, however, took down the stories after it created a media stir!
Mahhi's Entry Into Parenthood
For those who don't follow the television stars that closely, Mahhi Vij along with her hubby Jay Bhanushali stepped into the parenthood world after adopting their caretaker's children, Rajveer and Khushi. And on August 21st, 2019, the couple welcomes their first biological child, a baby girl who they have named very lovingly as 'Tara'.
The couple always dreamt of having a girl as their first child. Jay especially was very keen on it. He said that he always experienced the father-son bond, and now wanted to experience the father-daughter bond.
Recently Mahhi posted a picture on Instagram where she's seen being captured with her two daughters. While Tara was in Mahhi's arms, all curled up. On the other hand, Khushi was sleeping peacefully on her mommy's shoulders. She captioned the post as "When your prayers are answered God gives you the best gift called daughter I feel blessed to be a mother of two beautiful daughters @iamkhushiray @tarajaybhanushali."
We couldn't be more proud of this beautiful bold mommy, could we? It's nice to see celebs share their love for daughters upfront on social media platforms. It spreads awareness about the importance of accepting a girl child with happiness in a country like India, where still in many parts the birth of a girl child is considered to be a bad event.
The post TV Actress Mahhi Vij Gives The Most Savage Reaction For A Troll That Slammed Her As 'Moti' appeared first on STYLECRAZE.
from STYLECRAZE https://ift.tt/2KUdMlW
via
IFTTT